Furnishing of Buy-to-Let Apartments in Berlin
How to furnish an Apartment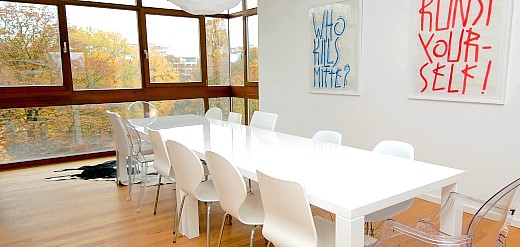 Good furnished apartments are very much in demand. Tenants are looking for flats, which are centrally located, clean, modern and furnished tastefully. The apartment should be renovated, it should have a modern bathroom, built-in-kitchen, wooden floors (no carpet).

Furnishing
Modern - urban - clean - that's the style most tenants favour. Here you find some good examples and some not so good examples on our website.
The apartment should not look stuffed, but not too sterile either. Tenants usually just arrive with their suitcase and they want to feel at home immediately. A bit of decoration - e.g. pictures etc, always works.
Floors
Carpeted floors should be avoided. It is okay, to have a few small carpets which can be cleaned easily, but wall-to-wall carpets are not very hygenic if tenats often change.
Parquet, tiles or laminate floors (although not everybody likes laminate) are better.

Bathroom
The apartment should also have a modern bathroom, and it should not necessarily look - if you have the choice - white and sterile. If shower or tub, or both, certainly depends on the space you have. If you have a shower, you should keep in mind that the shower cabin should be easy to clean. Glas cabins are more suitable than plastic ones, since the water in Berlin is very calcareous.

Kitchen
A modern, fully equipped fitted kitchen or kitchenette is ideal. The flats, which are accepted by us for management, need to have a washing machine. If you have to buy a new one, please buy a quality product with good after-sale service and a combination of washing machine and dryer. Tenant also appreciate a dishwasher, but it is less essentiell than a washing machine.


---